About Us
Yoga For Living was created to bring us closer to a life of balance, offering tools that allow us to live a more peaceful life in harmony with each other and in the world.

Rhonda Leone CSYT
Rhonda found her calling to teach Yoga, Ayurveda and Meditation after she experienced the profound benefit of the practices in managing stress, alleviating her back pain and bringing more balance to her life when she was working in the corporate world.
Rhonda has been teaching since 2001 and founded Yoga For Living in Cherry Hill, South Jersey, in 2009. Her teaching style is supported by her appreciation of the compassionate approach that is the core of Svaroopa® Yoga and Mindfulness Meditation. She weaves the philosophies of yoga and meditation into her classes, inspiring and encouraging living with more ease.
Rhonda offers one-on-one Yoga Therapy sessions, Ayurveda Lifestyle Counseling, Ayurveda Therapy Treatments and workshops that supports living a more awakened, mindful life, to oneself, each other and the world. Teaching beginning through advanced level students, Rhonda specializes in stress management and special needs, including MS, fibromyalgia, chronic fatigue, spinal stenosis and many other stress related chronic conditions.
She received her 750 hour yoga teaching certification and yoga therapy training through Svaroopa® Yoga Master Teacher Swami Nirmalananda. She received her Ayurveda Panachakarma therapy certification in March of 2007 while studying at Greens Ayurveda Hospital in Kerala, India, as well as certification through Wise Earth Ayurveda®. She received her Mindfulness Meditation training through Penn Hospitals Mindfulness Program.
Rhonda's current classes:

Sharon Elliott
Sharon is an elementary school teacher of 32 years and has been teaching hatha yoga in the Svaroopa® style for ten. When she attended her first Svaroopa® workshop eleven years ago, it became clear to her that there was so much more to life. Svaroopa® brought Sharon an understanding of deep inner peace and a knowing that all we have to do is to tap into our own inner truth that has always been there. Because of her love of teaching, it seemed natural that she bring this knowledge to others. This practice has also brought Sharon to a clearer understanding of her own purpose and faith.
"Though I did not know the following quote when I first started this practice, its meaning now speaks to what I've always known. This inner knowing is what drew me to the practice of yoga and meditation."
"Truth is by nature self-evident, as soon as you remove the cobwebs of ignorance that surround it, it shines clear."–Mahatma Gandhi
Sharon's current classes:

Brendon Bareiss-Bodie
Brendon has experienced a profound shift in consciousness through his Svaroopa® Yoga practice. This shift has had undeniably positive effects on his mental and physical health. Since 2006, Svaroopa® has provided subtle yet significant transformations in his physical awareness as well as playing a major role in his overcoming depressive mood challenges. This style of yoga is an integral aspect of Brendon's own spiritual journey, which includes being conscious, aware and a peaceful warrior while living and participating in the financial industry (i.e. his day-job).
Brendon's personal practice has flourished under the guidance of Master Yoga trained teachers Rhonda Leone (CSYT) and Kemm Sarver (RYT). He also received training through Foundations of Svaroopa® Yoga in 2007 by Master Yoga teacher Polly DiBella (CSYT).
He is excited and honored to share his Svaroopa® practice with others who would like to cultivate a peaceful, mindful and balanced way of being. He offers an alternative to the often daily unconscious pattern of young professionals, young adults with mental health/substance abuse issues, older adults, or just anyone trapped in the "rat race" – breathe, soften, allow, become mindful and enjoy the bliss! Brendon's classes are built around the central teachings of Svaroopa® proposing that the precise angles of the poses, breathing and mindfulness of our practice release the core tensions in our bodies allowing us to become aware of our true nature/essence. This is yoga!
Brendon's current classes:

Lori Volpe B.A., E-RYT
More than 20 years ago, Lori's search for a meaningful life led her to meditation. The freedom from anxiety and greater sense of well-being she gained from practice inspired her to share what she's learned; feedback from students motivates her to continue.
In 2011, Lori accepted the invitation to teach with the Penn Program for Mindfulness (PPFM) where she trained. She supplemented her learning through a 7-day residential professional training "Mindfulness Based Stress Reduction in Mind-Body Medicine" with Jon Kabat-Zinn. Regularly encountering students struggling with PTSD and anxiety inspired her to become certified to teach trauma-sensitive meditation and to become a Somatic Experiencing practitioner-in-training. Lori has also participated in many residential meditation retreats and teachings.
Besides facilitating public 8-week Mindfulness Foundation Courses, Lori co-taught mindfulness courses to medical and nursing school students at UPenn, has conducted continuing education workshops for therapists, and develops curriculum for advanced programs for the Penn Program and for courses she teaches with Dr. Dan Gottlieb. She currently teaches weekly mindful meditation and mindful yoga classes and also works with students individually. More information can be found on her website, Openingin.com.
Ongoing training and practice keeps Lori's teaching fresh and inspired. Students find her to be compassionate, supportive and knowledgeable. A social activist for many years, Lori now finds that inner transformation is a powerful way to change the world.
Lori holds a B.A. from Kirkland (now Hamilton) College.
Lori's current classes:

Linda Townshend
Linda is a longtime meditation practitioner who received her training in Mindfulness-Based Stress Reduction at Thomas Jefferson University's Mindfulness Institute. She teaches Mindfulness-Based Stress Reduction to groups, individuals, healthcare professionals and medical students, as well as presenting mindfulness workshops for businesses and private groups. She also facilitates the Mindfulness & Meditation group at the Kennedy Cancer Center, providing valuable tools and support for patients and their families in their unique journey. Her website is MindingTheMoment.com
Linda's focus is to provide skills and practices to support people in their self-care and to help them connect with their own inherent wisdom. She is inspired by the benefits that mindfulness and meditation provided her during times of challenge and loss in her own life and the resulting richness and appreciation it has brought to all of life's experiences. Linda deepens her knowledge and practice through independent coursework and intensive silent retreats. She also holds a Bachelor of Fine Arts from Philadelphia College of Art.
Linda's current classes:

Karen Siugzda CLWI, CLYL
Karen realized the amazing benefits of Laughter Yoga after taking just one class! And it only took two classes for her to realize that this simple, fun, yet wonderfully healing activity was an integral part of her life's journey and immediately became an instructor. Obtaining a dual certification in 2012 as both a "Certified Laughter Yoga Leader" as well as "Certified Laughter Wellness Instructor", Karen has been bringing healing laughter to communities and corporate environments alike. The profound shift in energy, mood and vitality that Karen experienced during her introductory Laughter Yoga classes continue to be a driving force in her desire to share the practice with others. She is a firm believer that laughter, breath work and playfulness are incredibly healing and has witnessed wonderful transformations, both personally and within students, through the practice. Laughter Yoga has been life changing for Karen, complimenting her regular Svaroopa Yoga practice, boosting energy and creativity in her career as an Art Director for a publishing company and providing overall support through the ebb and flow of life. Karen's excitement and passion for Laughter Yoga shine through in each class. Her light-hearted, playful approach is welcoming to newcomers as well as seasoned laughers.
Karen's web site: Laughter Wellness With Karen and Facebook page.
Karen's current classes:

Rebecca Narva
Rebecca, is a Nia Black Belt Instructor (the highest level of training in NIA), with over 20 years in fitness, theater arts and meditation experience. Along with a deep commitment to her own personal practice and supporting others in finding there joy in movement, Rebecca brings a positive, uplifting and joyful spirit to all of her classes. She has experience teaching all ages and fitness levels and has brought Nia to gyms, schools, hospitals, mental health centers and prisons. Licensed and certified, she is part of the International Nia community.
Rebecca's current classes:

Deb Freeman
For years Deb tried various methods to reduce her chronic pain. While some of these brought relief, none of them seemed to get to the root of the problem. When the medical world could only offer her pain management for the rest of her life, her own research led her to the Egoscue Method of posture therapy. This method gave Deb some instant relief from her pain through its gentle, corrective exercises. As she continued the therapy she began to see many positive changes. Her posture improved and her pain and limitations began falling away. Most importantly, she now had an unshakeable belief that the pain would go away completely. Her posture therapy results were so profound that she left her career as a loan officer to become a Postural Alignment Specialist. Deb completed her Postural Alignment Specialist I certification through Egoscue University in 2013 and her Postural Alignment Specialist II certification in 2014. Deb's passion is to help others align their posture for optimal health and well-being.
Deb's current classes:

Karen Barkan RYT 200
Karen's path to yoga started in 2012 when her doctor advised her to take yoga classes in order to reduce stress and manage sciatica pain. Yoga has not only helped to reduce stress and manage the pain, but also opened the gate to a whole new world that led her to research about the meaning of life. Karen learned how to listen to her inner voice and connect with her higher self. On her new journey she was looking for some answers about life, after life, dharma, and more… She decided to search for the answers through Yoga teacher training at Yogawood. Her daily Yoga practice improved her physical health, her ability to focus and to see things more clearly. It also took her to the next level where she learned how to listen to her body and listen to her intuition. Yoga became a way of life and since then she feels healthier on so many levels. Karen decided to share this magical tool with the world not only as a physical practice, but also as a tool to increase mindful awareness, gain focus, reduce stress and share the love that connects us all.
Karen's current classes:

Linda Naulty-Lamond
Linda has been studying yoga since 1998 and is a 2001 graduate of the Yoga East Teacher Training program in Louisville. Kentucky. Her studio, Full Moon Yoga, opened in 2003 in the Crescent Hill Neighborhood in Louisville. This center continued under the ownership of Yoga East.
Linda has also studied under her teacher, Reiki Master Helen Klayman and earned her Reiki certifications in 1999, becoming a Reiki Master in 2005. She studied with Dr. Jacob at the Sandhi Ayurveda Clinic and Research Center in Metro Manila from 2008-2010 and Pamoosh Dhar.
A native of New Jersey and a graduate of Rowan University. Linda spent six years in the Philippines with her daughter Emily. She taught Gentle Hatha Yoga as well as Prenatal Yoga for Yoga Manila and Mandala Spa in Boracav.
While living abroad Linda had the honor of studying Ashtanga Yoga in Mysore, India during the summers of 2006, 2007 and 2008. She has studied with Saraswati, daughter of Shri K. Pattabhi Jois, Master of Ashtanga Yoga.
She has come full circle and now lives in Merchantville, New Jersey where she teaches Ashtanga Yoga and teaches Elementary School.
Linda's current classes:

Laura Markowitz
Laura is a Hatha Yoga and Tai Chi Instructor. She completed her Hatha Yoga teacher training and certification (in the Sivananda and Kripalu traditions) at the School for Asian Healing Arts (2001) and received her Tai Chi Instructor Certification from the Arthritis Foundation and Dr. Paul Lam's Tai Chi for Health Institute (2010).
She has been teaching yoga and tai chi at a local fitness center since 2001 and for Cooper University Hospital at The Ripa Center for Women's Health and Wellness at Cooper since 2007.
Laura attained the Second Degree in the Reiki Method of Natural Healing in 2002. She became a member of the International Feng Shui Guild (2002-2003), having completed a Feng Shui Intensive Study Program in 2001, which flowed naturally from her work as an Interior Designer.
A student of Traditional Chinese Medicine for many years, Laura became a Diplomate in Asian Bodywork Therapy (ABT) through the National Certification Commission for Acupuncture and Oriental Medicine (NCCAOM). She studied Qigong with Sifu Karen Schlachter.
Laura has taught students of all ages, from preschool children to nonagenarians. Together, they share the joys and benefits of yoga and community while honoring their bodies.
Laura's current classes:

Rosemary Watkins
Rosemary began her yoga journey 20 years ago doing a daily practice. In 2016 she decided to pursue her passion for yoga and in 2017 she earned her 200 hour teacher training certification in Hatha Yoga from Lady of Lords Institute of Wholistic Studies.
She brings a down to earth welcoming approach to all her classes. She enjoys teaching beginners Hatha Yoga and also Sun and Moon Salutation for beginners and yoga enthusiast alike. She feels at home teaching at Yoga for Living and sharing the Physical, Mental and Emotional benefits of a well rounded yoga practice.
Rosemary's current classes:

Juhi Singhal
Juhi is a Mother, Teacher, Student and a Yogi. Her journey started with Yoga, Qigong and Tai Chi for over a decade and continues to deepen into her passion of practice and teaching while raising her two kids and serving the community.
Her Tai Chi journey started with Xavier Harvey. She has also studied qigong with Lee Holden and Peter Caughey.
She is a She is Board Certified Instructor of CDC (Center of Disease Control), approved Tai Chi for Arthritis and Tai Chi for Arthritis for Falls Prevention by Paul Lams Tai Chi for Health Foundation. Juhi continue to study different styles of Tai Chi with Paul Lam and going deeper into Qigong with Dr. Roger Jahnke and Master William Ting etc.
Juhi's current classes:

Lina Blanchet
Lina, a mindfulness educator, has been practicing and studying meditation and mindfulness for over ten years. Lina brings with her a deep understanding of mindfulness practices and how to apply them to both life and educational contexts. She is a candidate for a Masters in Mindfulness for Educators from Antioch University (December 2017), and is also a certified teacher in both New Jersey and Pennsylvania, with over sixteen years of teaching experience in both the US and abroad.
Informed by her years studying mindfulness and meditation, Lina guides students from a space of personal knowing. Her wish is to help others discover for themselves what mindfulness is and for them to develop a personal practice with a focus on self-compassion and mindful self-awareness.
Lina brings a compassionate awareness of the challenges faced by todays adults, parents, educators, and teens. Understanding the apprehension felt by those new to mindfulness, Lina guides her students with patience and encouragement. She also works with experienced meditators to deepen their exploration.
"With mindfulness, we discover the myriad opportunities for joy and purpose hidden within the fabric of our days. We learn how to hold ourselves and others with kindness through the changes and challenges that come our way. Being mindful, we offer ourselves, our families, friends, and all the people we encounter our presence, our strength, our compassion, and our joy. All this is possible, one moment at a time."

Michelle Magbalon
Michelle first started practicing yoga while working as an associate at a large international law firm in New York City. Although she had been exposed to Eastern spiritual teachings years before, it was not until she was reading a book by Swami Vivekananda that she learned that there were physical exercises one could do that would benefit a spiritual aspirant. She started practicing yoga and found that it helped her relieve stress, increase resilience, concentration and focus, calm the mind, become stronger and more flexible, and find more internal peace and contentment.
Through grace she was led to Dharma Yoga Center in New York, where she studied classical hatha yoga for several years with Sri Dharma Mittra and senior teachers before completing the Dharma Yoga Life of a Yogi Teacher Training. Grace again led her to the right place at the right time, allowing her to study with and earn further certifications from the International Sivananda Yoga Vedanta Centres, completing both their Teachers' Training Course and Advanced Teachers' Training Course. She has found that the more gentle form of hatha yoga in the Sivananda format complements the more dynamic form of Dharma Yoga, though both schools remain true to yoga's roots in spirituality.
In addition, Michelle has completed the Sivananda Sadhana Intensive dealing with advanced hatha yoga techniques and study of the Hatha Yoga Pradapika and Vivekachudamani, and Hridaya Yoga's Module 1 course, which introduced her to an even more meditative style of yoga holding poses for long periods of time and going through several stages of focus before reaching the final meditative stage of self inquiry. She is thankful to all her teachers and, out of gratitude and compassion, wants to spread the teachings from which each of us can receive many benefits.
Michelle's current classes:

Studio Info.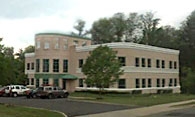 Yoga For Living is conveniently located in Cherry Hill, NJ–just minutes from Route 295.
1926 Greentree Road
Cherry Hill, NJ 08003
Tel: (856) 404-7287