Welcome to Yoga For Living
A yoga studio in Cherry Hill, South Jersey, created by Rhonda Leone CSYT, to support you in living a balanced lifestyle.
Rhonda Leone created the Yoga For Living studio to share the proven methods handed down from her teachers, methods that bring balance to the body, peace to the mind and awaken the soul—to be in harmony with yourself, each other, and the World.
Through Yoga For Living, Rhonda, and fellow experienced and dedicated instructors, teach and support you in learning the practices of Yoga, Meditation, Ayurveda and Pranayama (breathing practices) that lead to an open, welcoming approach to your true Self, your life, and its experiences.
Please explore our ongoing Yoga and other classes and Mindfulness, Mediation and Relaxation. We also have Special Events and Workshops.
At Yoga For Living you can develop and maintain good health, deepen your understanding of yoga and its philosophy and enrich your life through: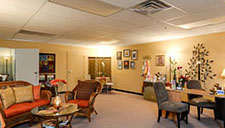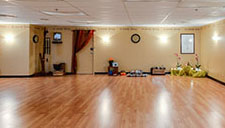 The Yoga For Living studio.
3 classes for $30! Just $10 per class.
If you are new to the Yoga For Living studio and haven't attended any yoga classes here before then we have a special offer for you!
Purchase a special three-class card for just $30 (must be used within 3 weeks of purchase). Please contact us or call (856) 404-7287 to take advantage of this special offer.
Mindfulness-based Meditation for Stress Reduction
Tuesday April 4, 6.45pm–8.15pm. $Free.
Through a variety of meditation and awareness exercises you will become familiar with this practical, time-proven approach that has helped thousands of people achieve greater balance, vitality and health.
Saturday April 22, 1pm–4pm. $49 before April 1 or $59 after.
Experience a joyful uplifting, 3-hour workshop like no other with Robert Rivest, an internationally admired health, literacy and stress relief educator, mindfulness teacher, laughter yoga master trainer and engaging public speaker.
Saturday May 6, 4pm–5.30pm. $15 (no class cards).
In this special Nia workshop we Celebrate Our Sacred Nature through the magic of music and movement from the dance routine "Sacred." We will expand our vision of who we are and who we can become by diving into the realm of deep play with costume and adornment.
Give The Gift Of Yoga
If you'd like to offer a gift of our yoga classes, treatments or special programs, Gift Certificates are available for purchase.
They make ideal treats for special occasions or just to say "I care for you and your wellbeing".
Please contact us or call (856) 404-7287 for details.
Looking for a great space and location to hold your event?
The Yoga For Living studio is available for rental.
This beautiful yoga studio is availble to rent for classes, workshops, private therapy and counseling sessions, dance movement classes and more. Rental can be negotiated by the hour, event, week or month and our rates are very reasonable.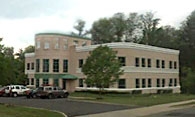 1926 Greentree Road, Cherry Hill, South Jersey
Upcoming Events & Monthly Specials
Looking for a great space and location to hold your event?
The Yoga For Living studio is available for rental.