Welcome to Yoga For Living, Inc.,
a yoga studio in Cherry Hill, NJ, created by Rhonda Leone CSYT, to support you in living a balanced lifestyle.
Rhonda Leone created the Yoga For Living studio to share the proven methods handed down from her teachers, methods that bring balance to the body, peace to the mind and awaken the soul—to be in harmony with yourself, each other, and the World.
Through Yoga For Living, Rhonda, and fellow experienced and dedicated instructors, teach and support you in learning the practices of Yoga, Meditation, Ayurveda and Pranayama (breathing practices) that lead to an open, welcoming approach to your true Self, your life, and its experiences.
Please explore our ongoing Yoga, Ayurveda, Dance & Movement and Meditation & Relaxation classes. We also hold Special Events and Workshops.
At Yoga For Living you can develop and maintain good health, deepen your understanding of yoga and its philosophy and enrich your life through: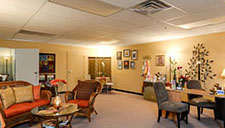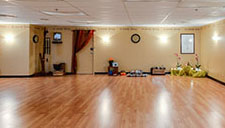 The Yoga For Living studio.
3 classes for $30! Just $10 per class.
If you are new to the Yoga For Living studio and haven't attended any yoga classes here before then we have a special offer for you!
Purchase a special three-class card for just $30 (must be used within 3 weeks of purchase). Please contact us or call (856) 404-7287 to take advantage of this special offer.
Friday December 4, 7pm–8pm. $13 drop in or YFL class card.
Combining slow gentle movements, breathing techniques and focused intention, Qigong offers a natural way to create harmony between the mind, body and spirit.
Thursday December 10, 1pm–2pm. $Free.
Join us once a month for an hour of meditative chanting and being in community of oneness. Everyone is welcome!
Taking Yoga off the mat and into our lives
Monday December 14, 7pm–8.30pm. $By donation.
Yoga For Living offers an opportunity to practice Karma Yoga (Seva) – The Yoga of Actions. Each month we dedicate all of the proceeds of one of our yoga classes to a local good cause.
This month's Seva class: Gentle and Relaxing Svaroopa® Yoga with Rhonda.
This special is available free to newcomers to the studio, open to all.
Friday December 18, 7pm–8pm. $Free to new students. Also $13 drop in or YFL class card.
New to Yoga? Have a friend that wants to try it? Come to our Free Class. Learn the basics and philosophy of Yoga. Bring a friend, spouse or family member along too. One class can start you on your way to a happier, healthier you!
Sunday December 20, 7pm–8.30pm. $15 per session.
Questions about your practice? Need a refresher or want to reconnect? Want the support of a group and the guidance of an instructor? Join in these sessions designed to cultivate and deepen your practice and connect you to a community of mindfulness practitioners.
Friday January 1, 11am–4pm. $59 including lunch.
11am – 12.30pm: Manifest your true heart's desires as you move into 2016 with heartfelt intention.
12.30pm – 1.30pm: Vegetarian Lunch
2pm – 4pm: Release and Renew ceremony with crystal bowls.
De-stress, Energize & Get Happy with Laughter.
Sunday January 10, 2pm–4pm. $20 sign-up by December 31. $25 after and at the door.
Laughter Yoga is not Yoga Poses. It's the yoga of breath and moving energy. It promotes healing and having more fun through laughter. So it is available to everybody. You can participate even in a chair.
Saturday March 5, 1pm–6pm. $150 plus Raindrop Kit.
Raindrop Technique® combines a unique targeted massage, Vita Flex and a layering process of nine different Young Living therapeutic/medicinal grade essential oils applied to the feet and spine.
Saturday April 2, 1.30pm–6.30pm. $95.
It is critical for our overall well-being to immerse into a place of silence, often and without guilt, on a regular basis. Only in the silence can we discover the secrets of our true inner knowing.
Immerse yourself in Silent Space we create for you through the grassroots rituals of Ayurveda for Women's Health.
Developing a Private Yoga Therapy Session
Saturday April 16, 9am–6pm. $425. Includes 15 CEU Credits.
If you are a serious Yoga Student with a minimum of two years$#39; experience or a Yoga Teacher at entry level or above and looking for ways to continue studying yoga and its therapeutic value, this course is for you.
Give The Gift Of Yoga
If you'd like to offer a gift of our yoga classes, treatments or special programs, Gift Certificates are available for purchase.
They make ideal treats for special occasions or just to say "I care for you and your well-being".
Please contact us or call (856) 404-7287 for details.
Looking for a great space and location to hold your event?
The Yoga For Living studio is available for rental.
This beautiful yoga studio is availble to rent for classes, workshops, private therapy and counseling sessions, dance movement classes and more. Rental can be negotiated by the hour, event, week or month and our rates are very reasonable.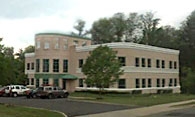 1926 Greentree Road, Cherry Hill
Upcoming Events & Monthly Specials
Please call (856) 404-7287 to register in advance for these events.
Looking for a great space and location to hold your event?
The Yoga For Living studio is available for rental.